BIOGRAPHY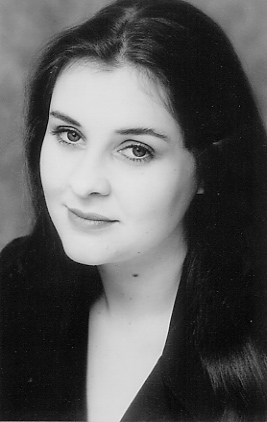 Natasha's musical knowledge and performance experience is extensive. Having completed a music degree (BCA) majoring in opera singing in 1998, she now teaches vocal technique and stage performance from a studio in Narrabeen, as well as continuing to perform opera and classical repertoire herself. Most recently, Natasha produced and was the musical director for a concert held on the 7th November 1999 in Sydney, featuring her students. Her most recent project is as an operatic consultant and performer for a feature film in India.
Notable performances that Natasha gave in 1999 include: with the Sydney Children's Choir at the Sydney Town Hall on the 10th of October, numerous weddings through out the year, a concert at the Wollongong Town Hall on the 28th August featuring operatic excerpts, the City of Sydney Eisteddfod in July, ensemble work for a recital in the Great Hall at Sydney University on the 13th May, and a recital performance for the Survivor's of the Holocaust on the 27th April in Woollahra, Sydney.
Performances in 1998 include the challenging lead role in a Menotti opera. This opera was directed by Kate Gaul and musically directed by Jane Edwards. Natasha had a solo performance in an exclusive chamber concert that was held in the city during late November. There she performed along side people such as Hal Beasley (tenor), Lotte Latukefu (mezzo-soprano) and Ben Kerslake (tenor). Natasha had a lead role in a devised work directed by Jeff Kevin 'Shakespeare's Love Bites'. Natasha was an understudy to the main role of 'Lucy' in 'The Beggar's Opera' directed by Ian McGrath and performed at Theatre South in 1996.
Natasha has a keen interest for contemporary operatic works and has premiered many new Australian works. Notably, the piece 'A well-bred killer' written for cello, clarinet and voice by Michelle Matts performed at a composer's concert in Wollongong, September 1998. Natasha has also played a part in the premiere of numerous works by the well-known Australian composer, Steven Leek.
Aside from her extensive performance experience, Natasha has also been employed as a musical researcher for numerous theatre productions including her employment as a musical adviser for the professional production called 'Love Child' directed and produced by Cecilia Ritchie. 'Love Child' was performed at the PACT Theatre in Sydney 1999. Natasha was also musical adviser for the dance production 'Wrong Way, Go Back'. This production was directed and choreographed by Kate Willmott and was performed in the Hope Theatre, Wollongong in March 1998.
Amongst many of the awards that Natasha has won in her musical career, is that of First Place in 'Music Illawarra's Young Musician's competition' adjudicated by Sharolyn Kimmorely (Artistic Direction Opera Australia, Head of Opera Faculty at the Sydney Conservatorium of Music) in 1997. During the Christmas of 1997, Natasha was asked to perform with the tenor Muli au ma seali'i as an alto soloist in a quartet for the 'Winter Garden' in Sydney.
In 1996 Natasha was one of twelve vocalists to be selected nationally for the Youth Music Australia Camp held in Melbourne. There she performed solo and ensemble works under the musical direction of Lyn Williams for ABC National radio broadcasts and for concerts in Melbourne.
Natasha belonged to a vocal trio known as 'Mystique' who worked professionally around Sydney and inter-state until she left in 1998 owing to growing commitments with opera. 'Mystique' won many awards and performed at major sporting events including the Melbourne State of Origin 1995, Sydney State of Origin 1995, the Sydney Kings basketball games at the Sydney Entertainment Centre, the Australian Soccer final in Melbourne, as well as performances at Brookvale oval for the Manly Sea Eagles and in Tasmania for the Tasmanian Football League. Other notable performances include many corporate functions around Sydney, performances at celebrity parties, the International food and wine Festival at Randwick and, of course, at the Sydney Opera House.
In earlier years Natasha was appointed leader of the Sydney Children's Choir (directed by Lyn Williams) and was a soloist for many years that included tours to Bali, Jakarta, Singapore, Melbourne and Canberra.

Other notable performances with the choir include performances aboard the QEII, at Government House, before the Duchess of York at Darling Harbour, before the Queen at Sydney Town Hall and for televised solo performances.

Natasha has also performed substantial roles in many musical theatre productions of The Forest Youth Theatre Company including Pirates of Penzance, Hans Christian Anderson, Little Shop of Horrors and Chicago. Natasha has also been a vocalist for radio and television commercials.